We're happy to introduce f(x)Wallet v3.0, a major upgrade that contains the following important changes:
New
Support the Solana Network and Dapps built on Solana

New My Wallet page: No more scroll through, now manage only one single address at a time.

Messages Center: Now keep track of more than transactions

f(x) Ecosystem: Well-rounded support for the growing set of f(x) Dapps, like delegating and governance voting

Node Settings
Optimized
f(x)Dapp Center: Mark a Dapp to Favorites for quick access

Send page: Calculate the transaction costs before proceeding to send
Deprecated
Custom account name(or wallet name): Picking a custom account name is no longer available for new users onboard from this ver.
Supported Blockchains Overview
f(x)Core Classic addresses are no longer generated for new users of f(x)Wallet ver 2.0 or later.
If you have both f(x)Core Classic and f(x)Core addresses, it is highly recommended to move to f(x)Core address for next-level scalibility, such as interacting with Dapps on Ethereum or Polygon with the same single address. For more, you could view our help doc
EVM-Compatible Address Upgrade FAQ
Ver 2.5.0

Ver 3.0.0

Supported Blockchains

Bitcoin

✅

✅

Ethereum

✅

✅

f(x)Core (EVM-compatible)

✅

✅

PundiX Chain

✅

✅

Polygon

✅

✅

Tron

✅

✅

BNB Smart Chain

✅

✅

Avalanche C-Chain

✅

✅

[New] Solana

❌

✅
Frequently Asked Questions About Using v3.0
Blockchains
I'm using many blockchains. How do I switch from blockchain to another on my new My Wallet page?
Tap the Wallet Switcher

Choose your desired blockchain from the Selection bar, then choose your address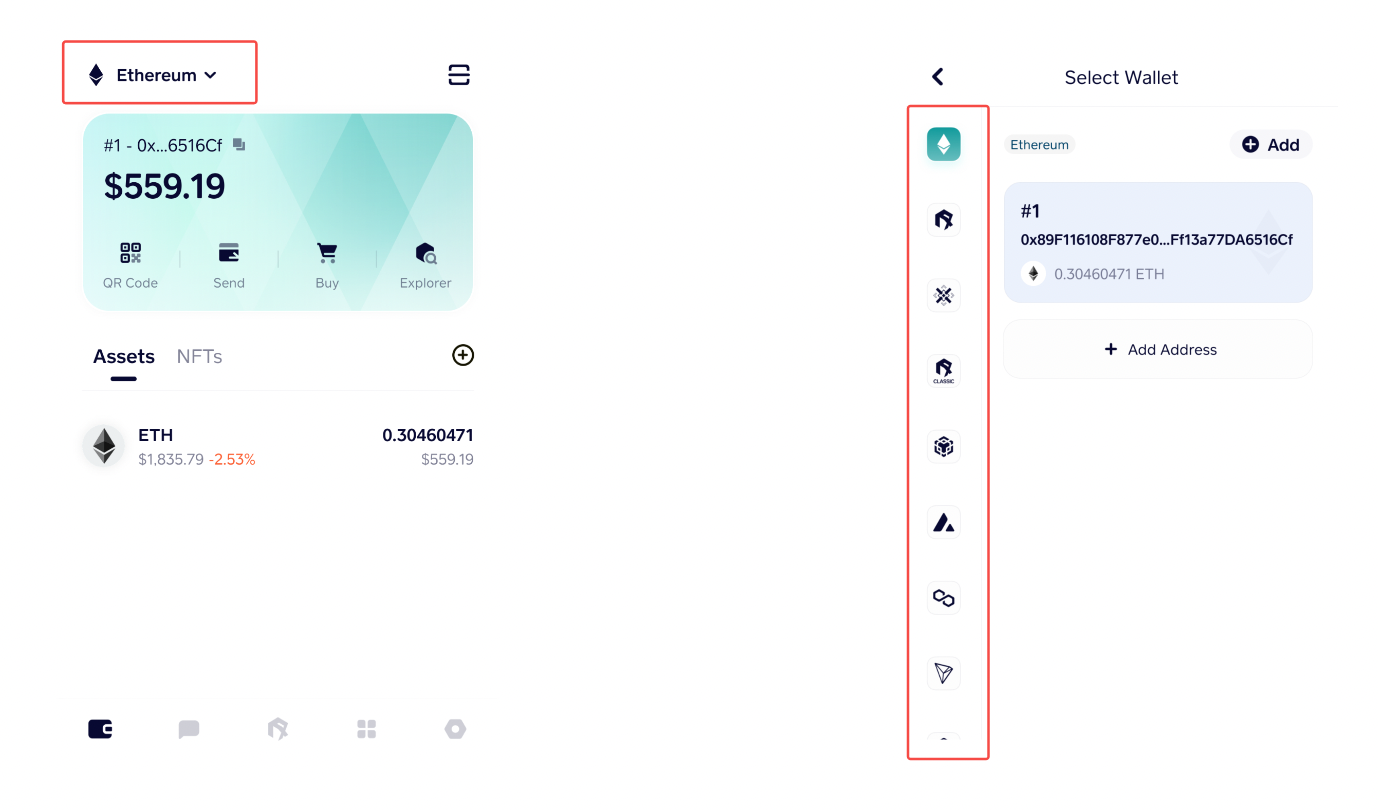 How to hide or add a certain blockchain?
Tap the Wallet Switcher

Tap the icon on the bottom of the left Selection bar

Toggle the switch to add or hide a blockchain from your Selection bar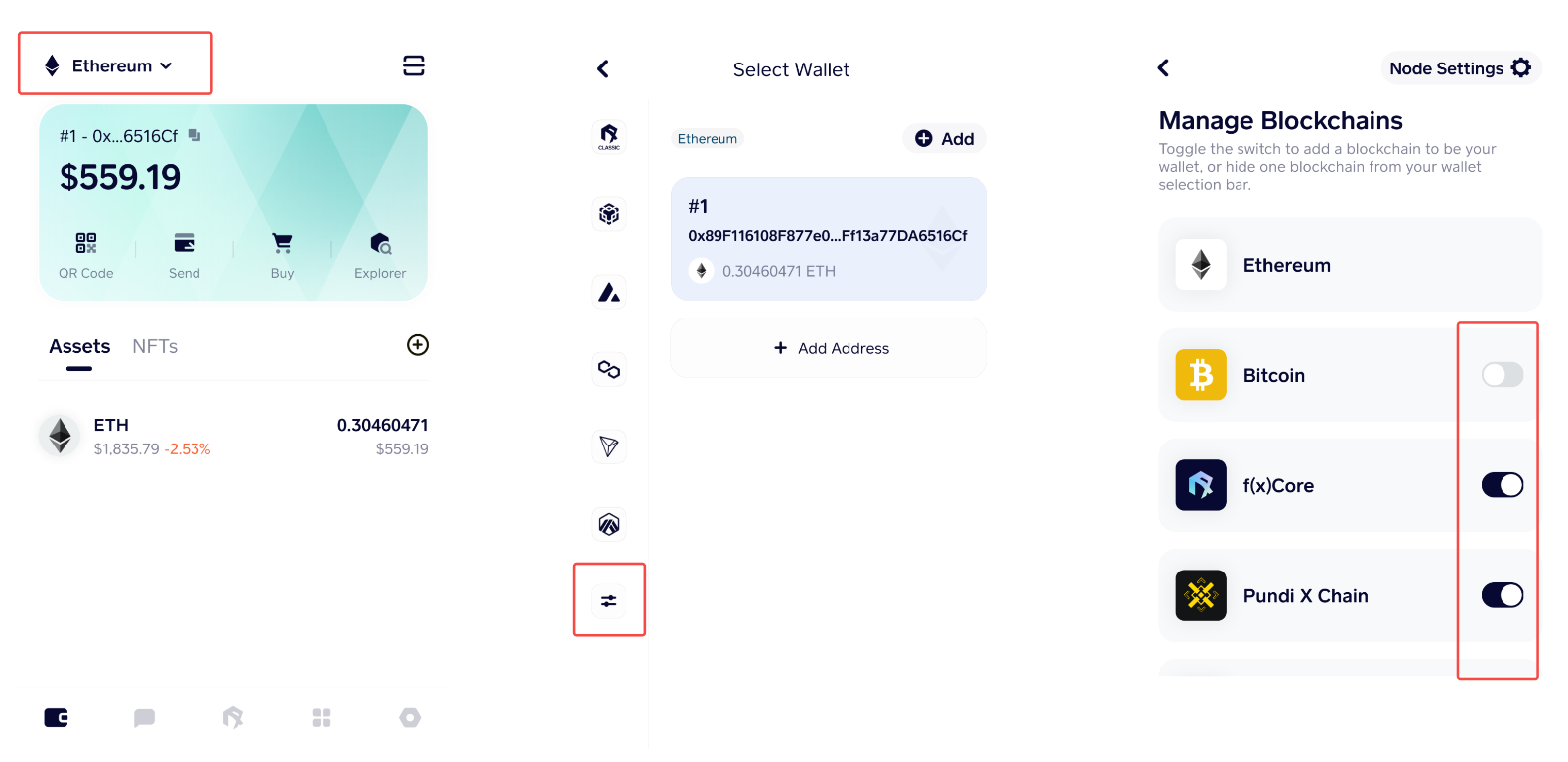 Addresses
I have multiple addresses on one blockchain. How do I switch from one address to another?
On the Select Wallet page, choose your preferred blockchain

Choose your preferred address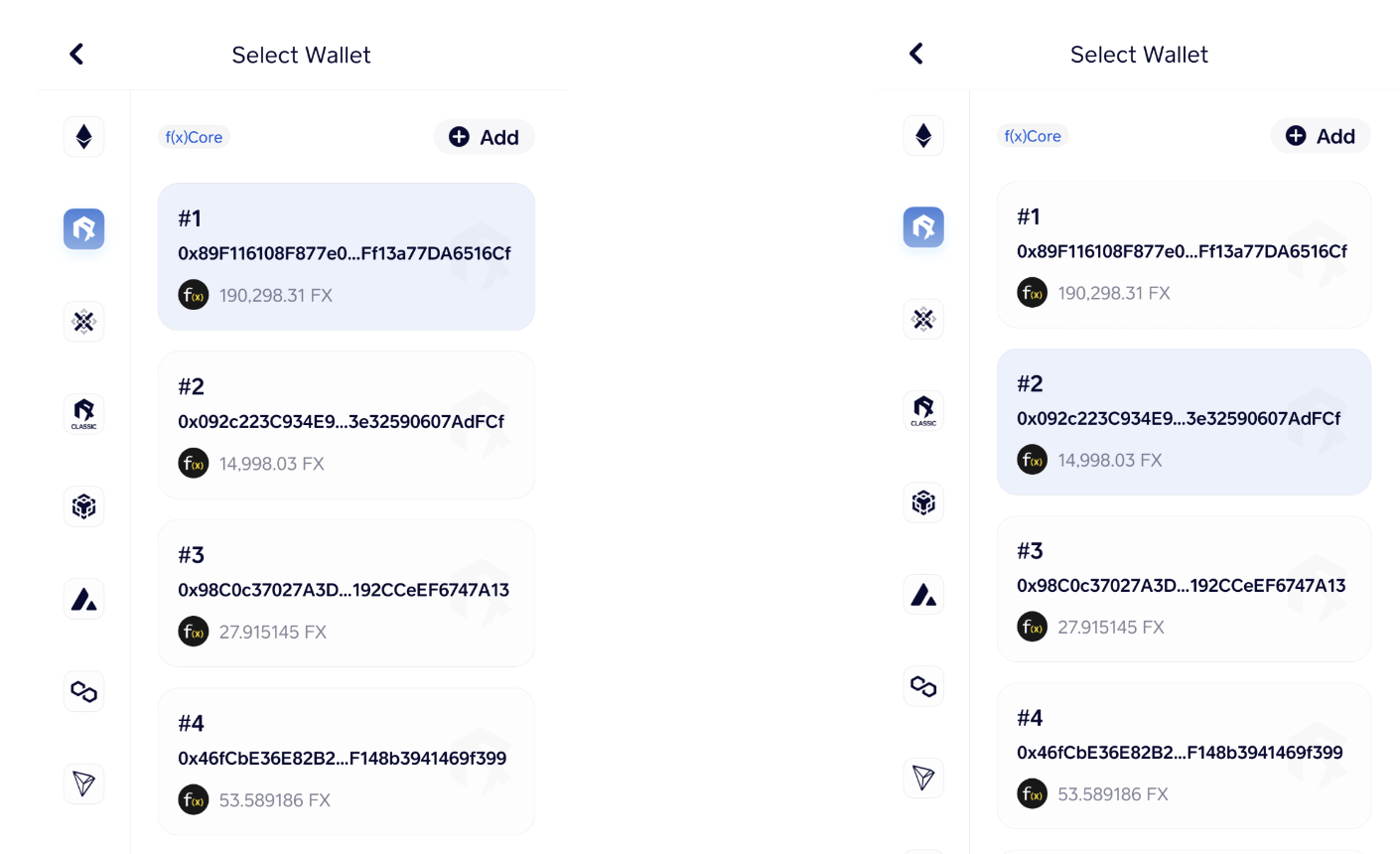 How to add an address on a blockchain?
On the Select Wallet page, choose your preferred blockchain

After choosing the blockchain, tap +Add Address (or +Add button on top right)

Tap +Add to add one or more addresses as you like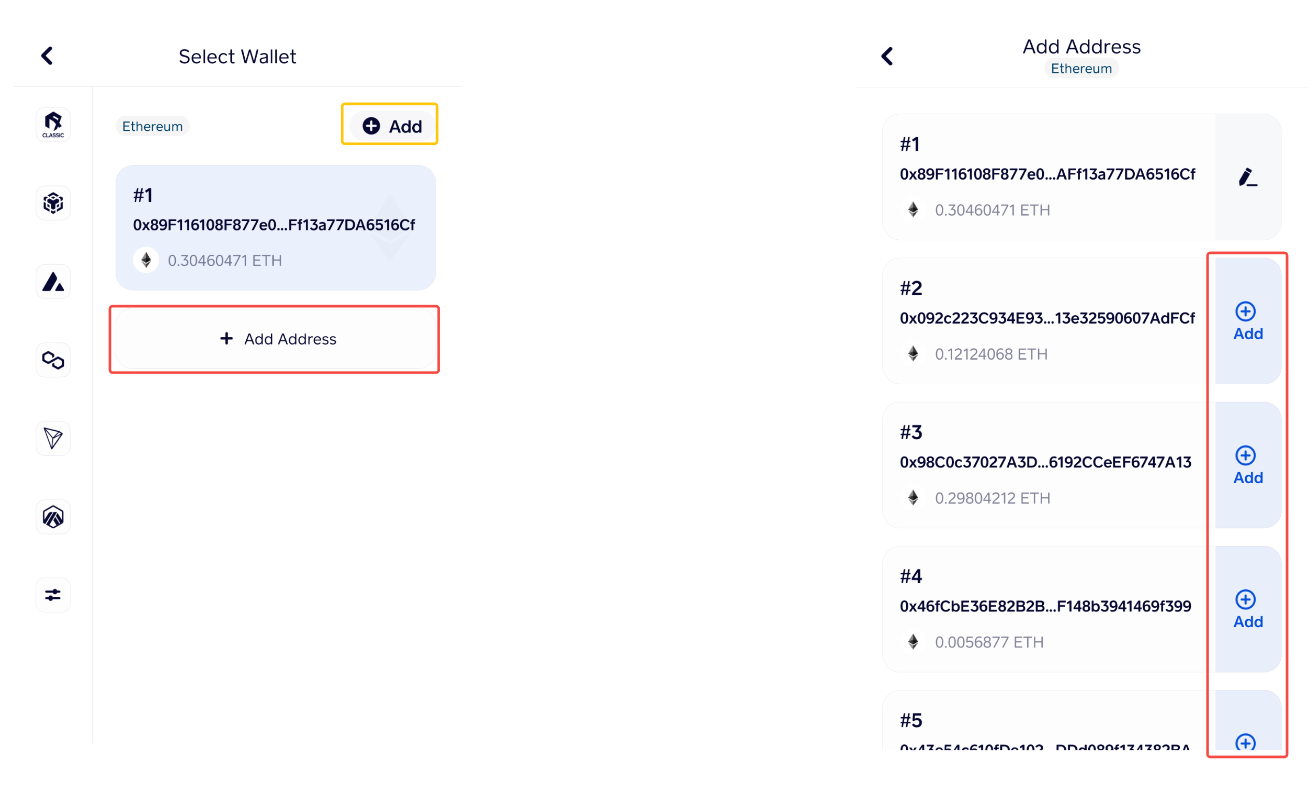 How to tag a name on my address?
Tap the +Add button on top right

Select an address, tap the Edit button

Enter the name as you like, and tap Save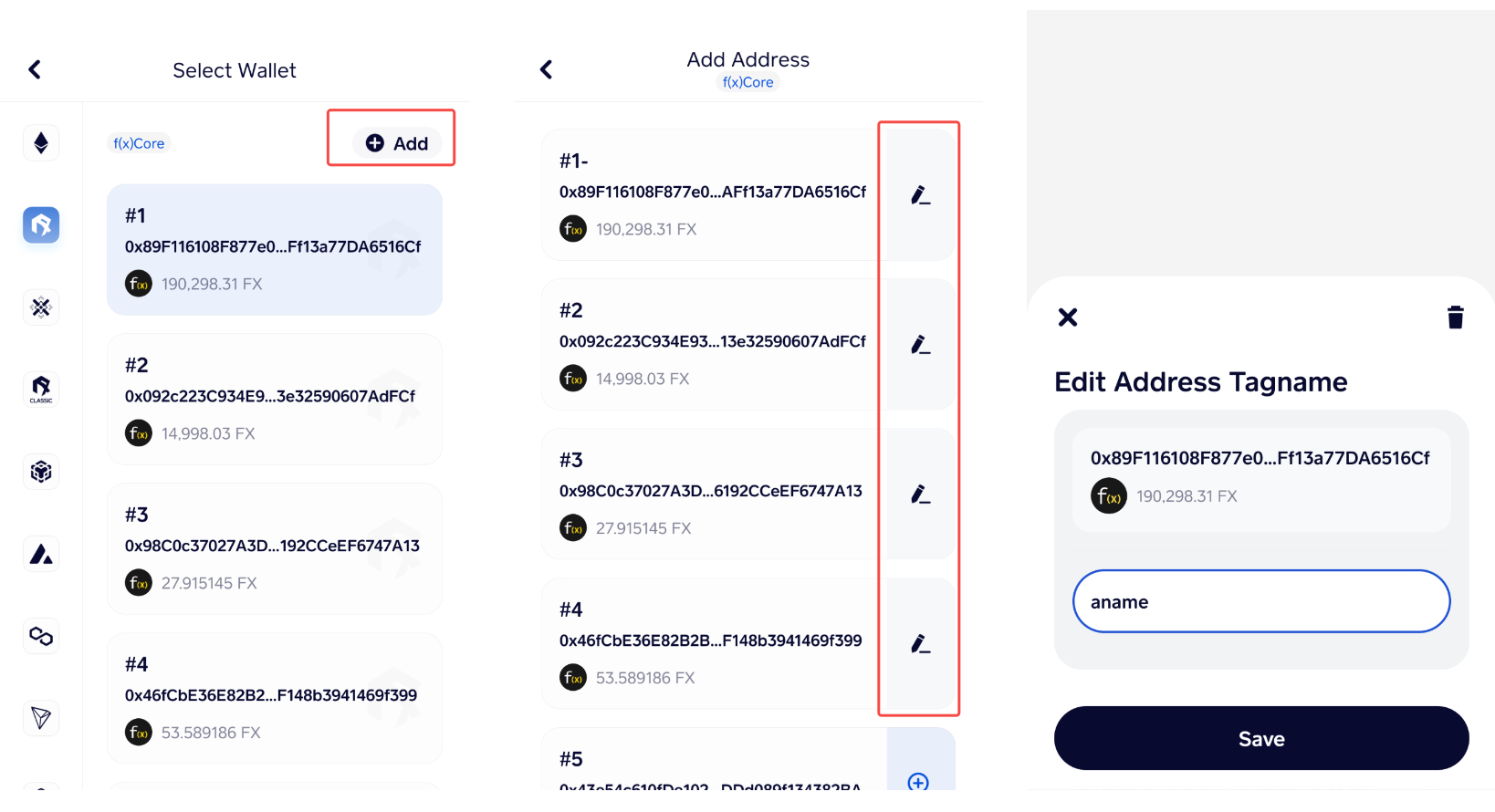 How to add an address to my Address Book?
Tap the ⬡ icon on the bottom navbar to go to Settings, and choose Address Book

Tap the button on the top left

Choose the right blockchain, enter the address by pasting or QR code scanning, add a tag name to it, and tap Save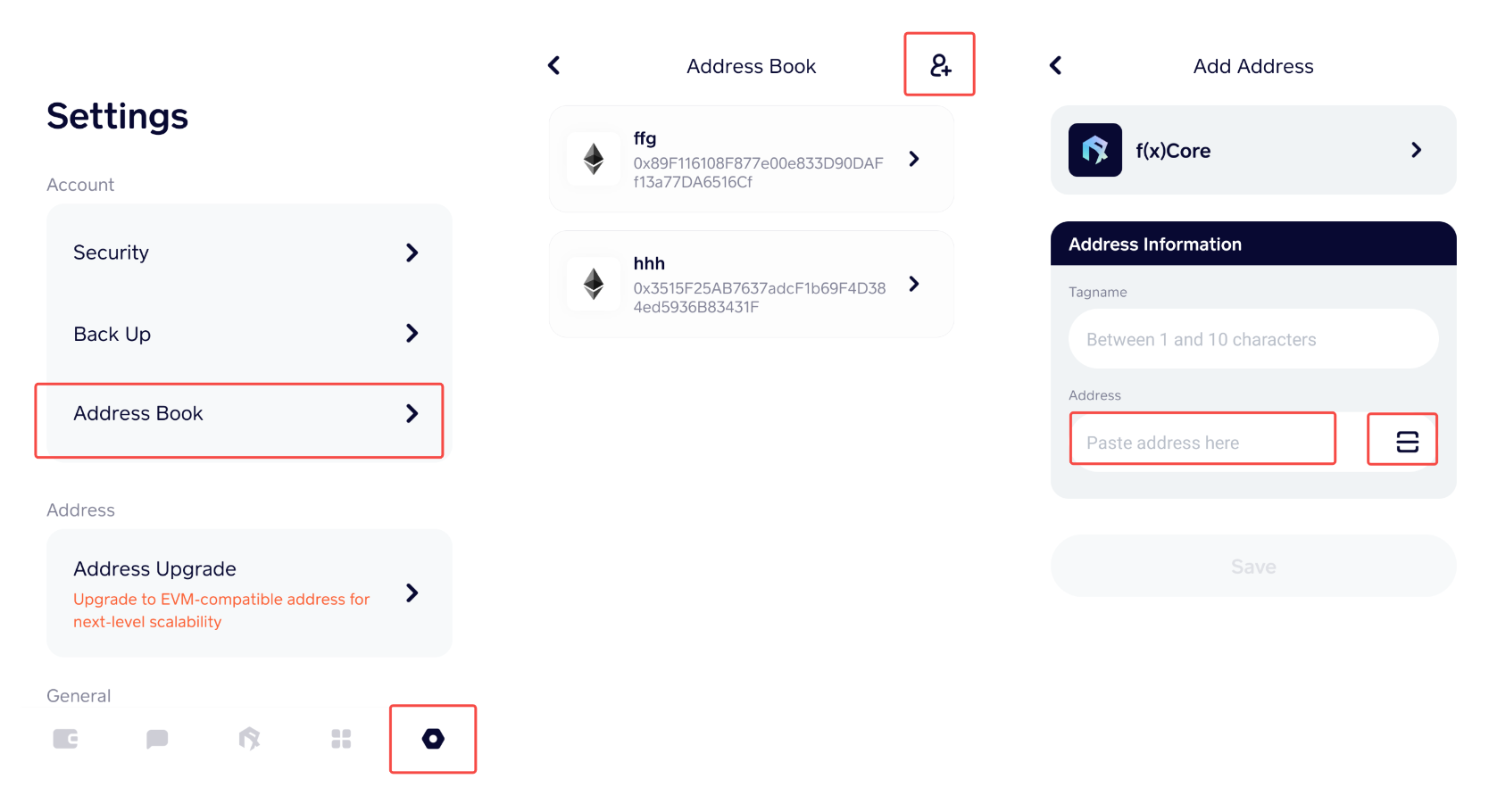 Tokens
How to add a token on a blockchain?
Choose your preferred blockchain, tap the + button

Choose your preferred token under Popular, tap +Add;
If you don't see the token you want to add, enter its name in the search box. To add a custom token, add the + button next to the search box.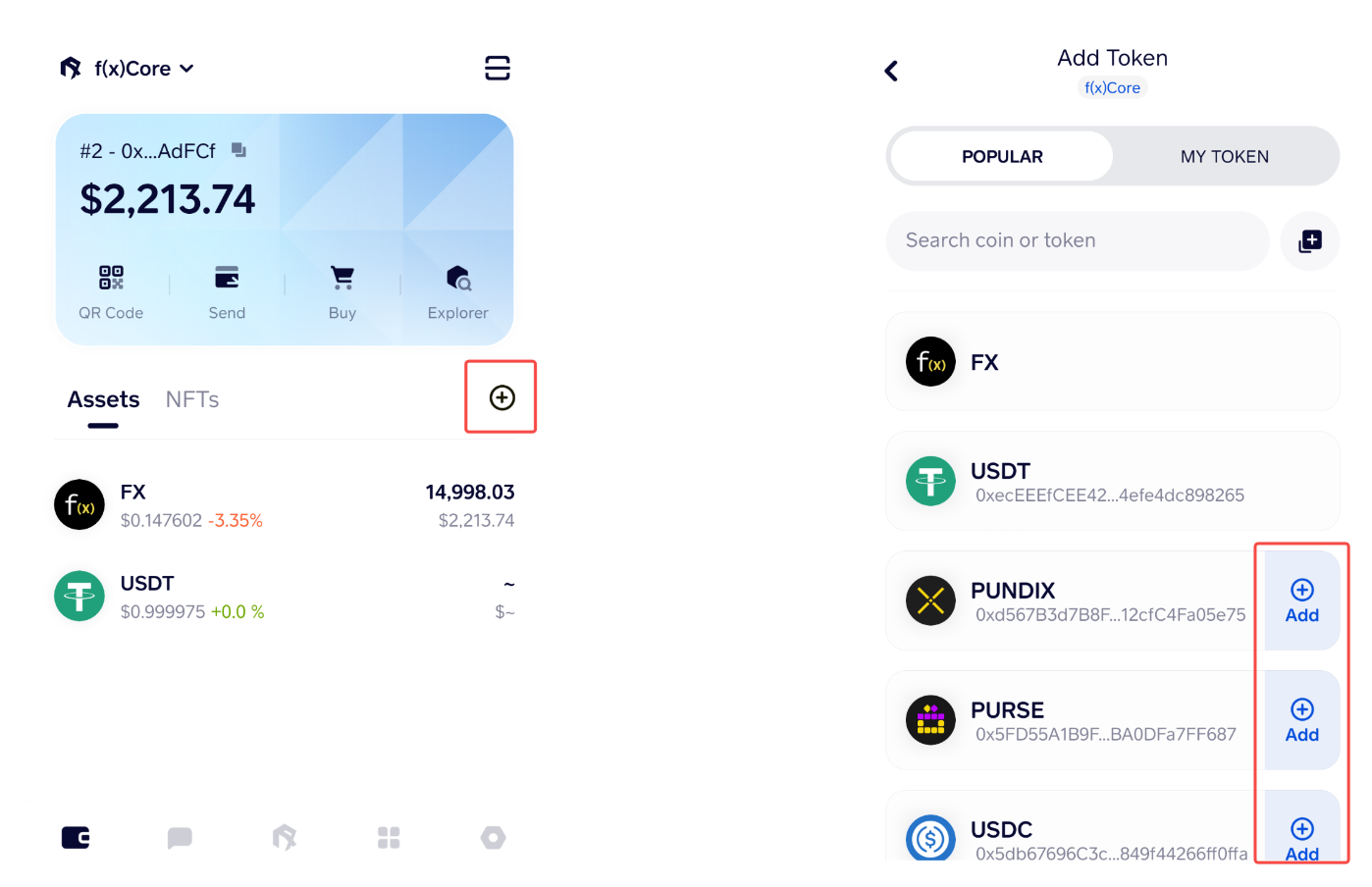 Transactions
How to make cross-chain transactions?
Tap f(x)Ecosystem on the bottom navbar

Choose f(x)Bridge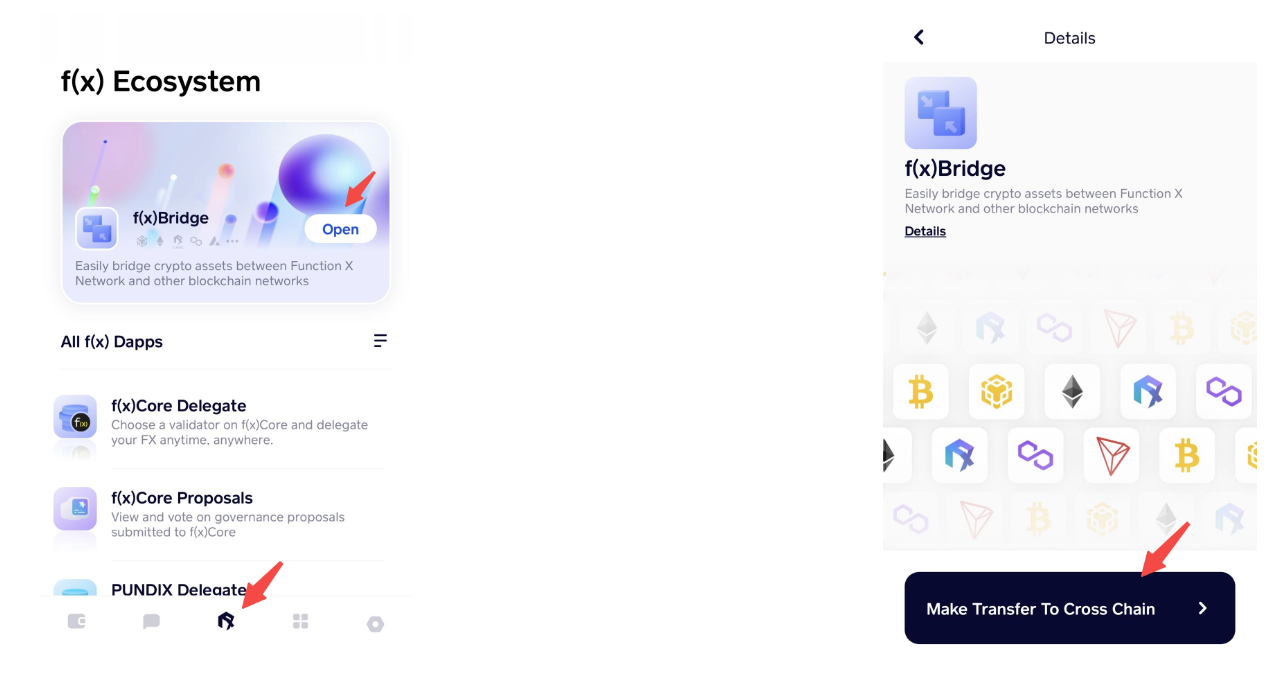 How to choose an address from my Address Book when sending tokens?
On the Send page, tap the Address Book icon

Choose CONTACTS, you could see all addresses on this blockchain that you have added in your Address Book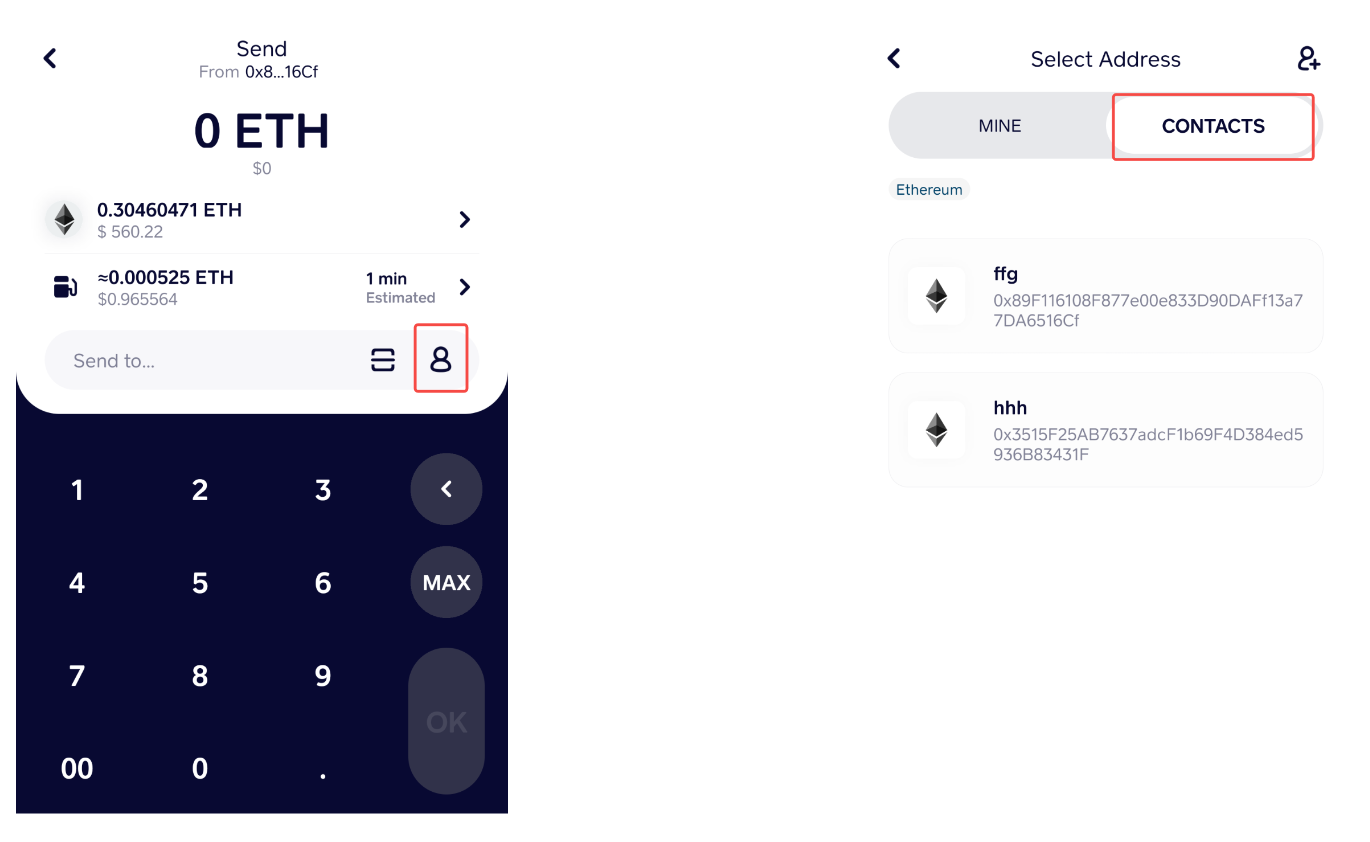 Dapps
How to mark a Dapp to add it to Favorites?
Go to f(x)Dapp Center, tap the Dapp you'd want to add

Tap the ··· on the top right

Tap Mark to add this Dapp to your Favorites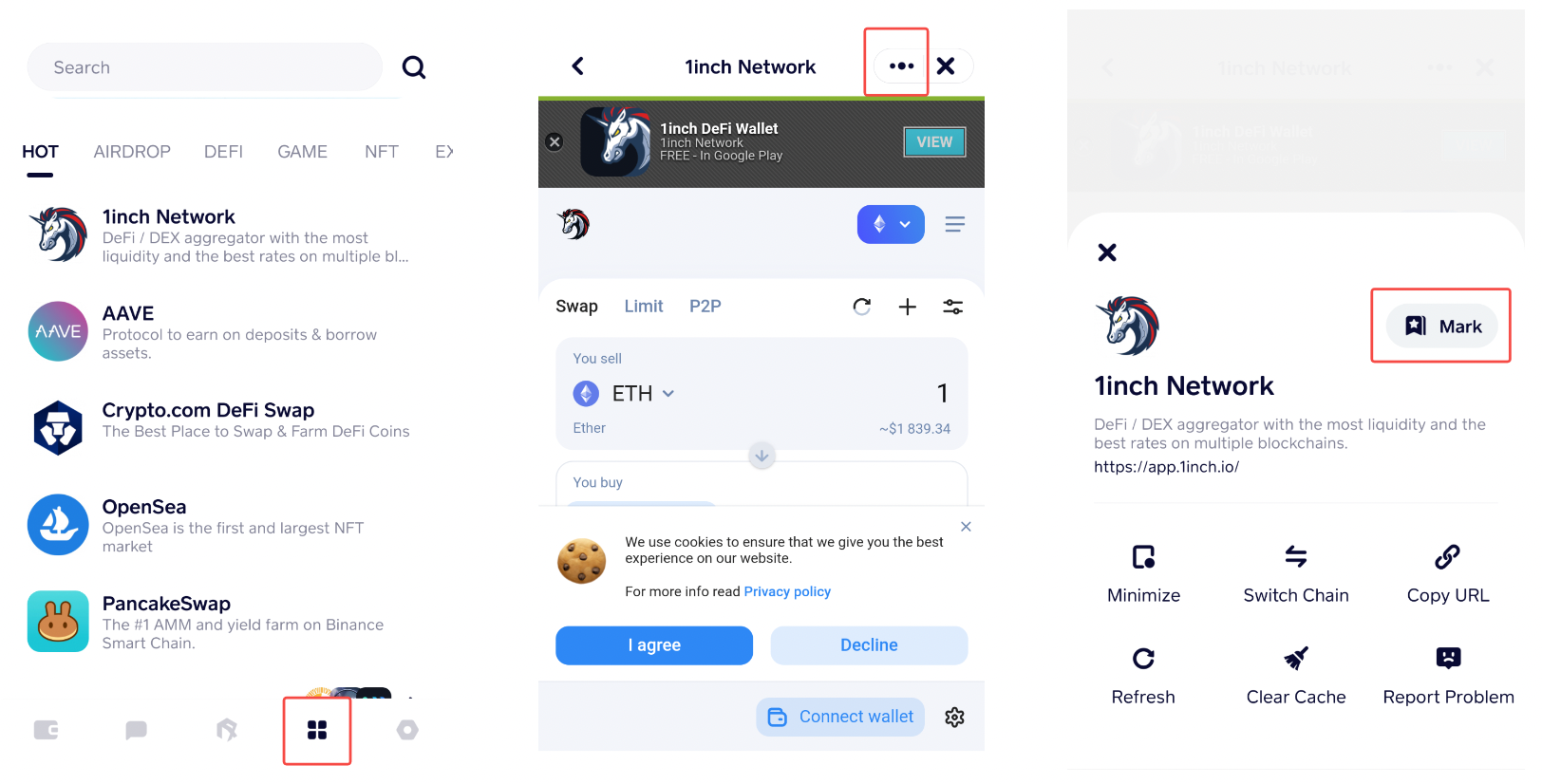 How to sort or remove Dapps in Favorites?
Tap See All

Tap the Edit button

To move a Dapp, touch and drag it to another location; to remove a Dapp, tap the red delete icon

Tap Save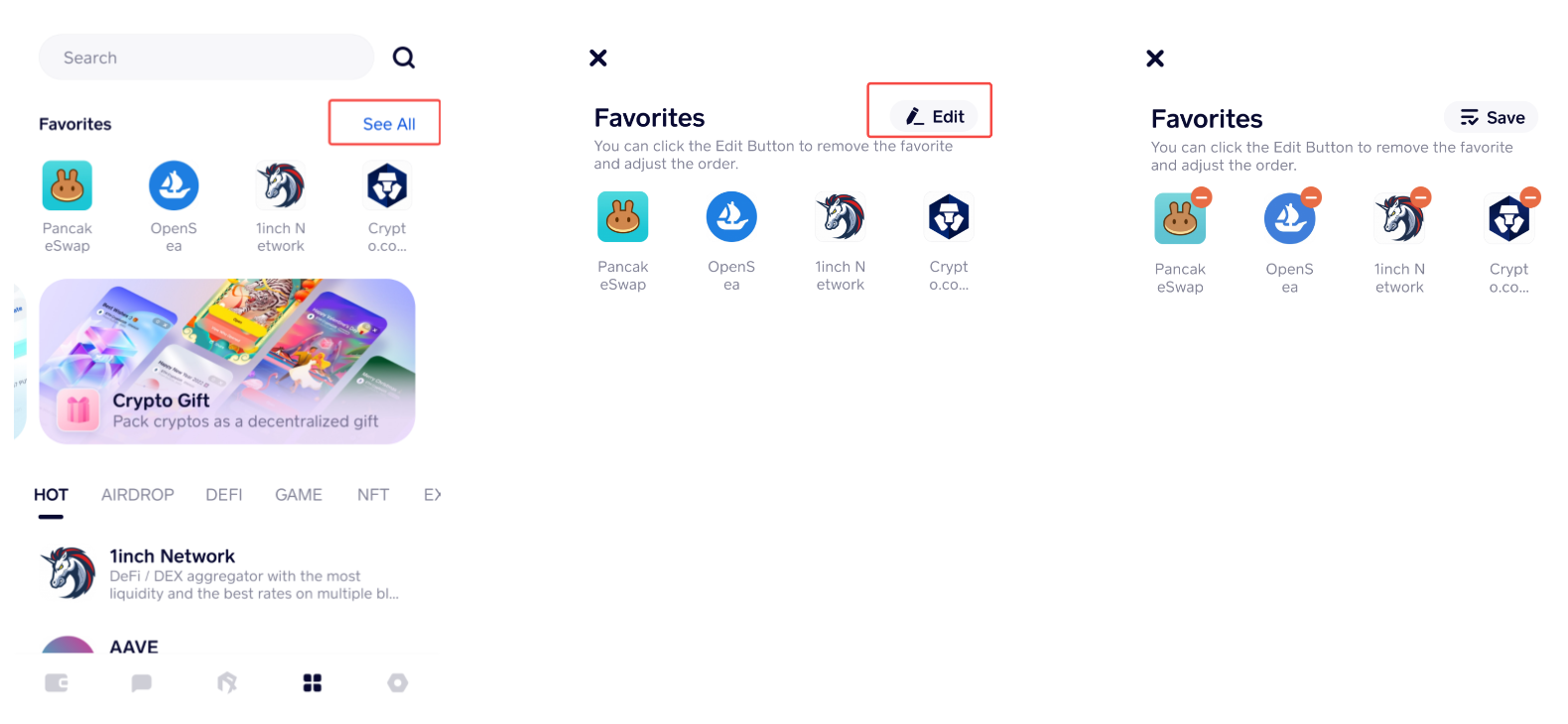 Nodes (Advanced)
An RPC(Remote Procedure Call) node is a server that helps apps function and verify transactions. An ideal RPC node should be both fast and reliable.
How to change a blockchain's node?
Navigate to the Manage Blockchains page, and choose Node Settings

Choose the blockchain whose node you'd like to change

Select another node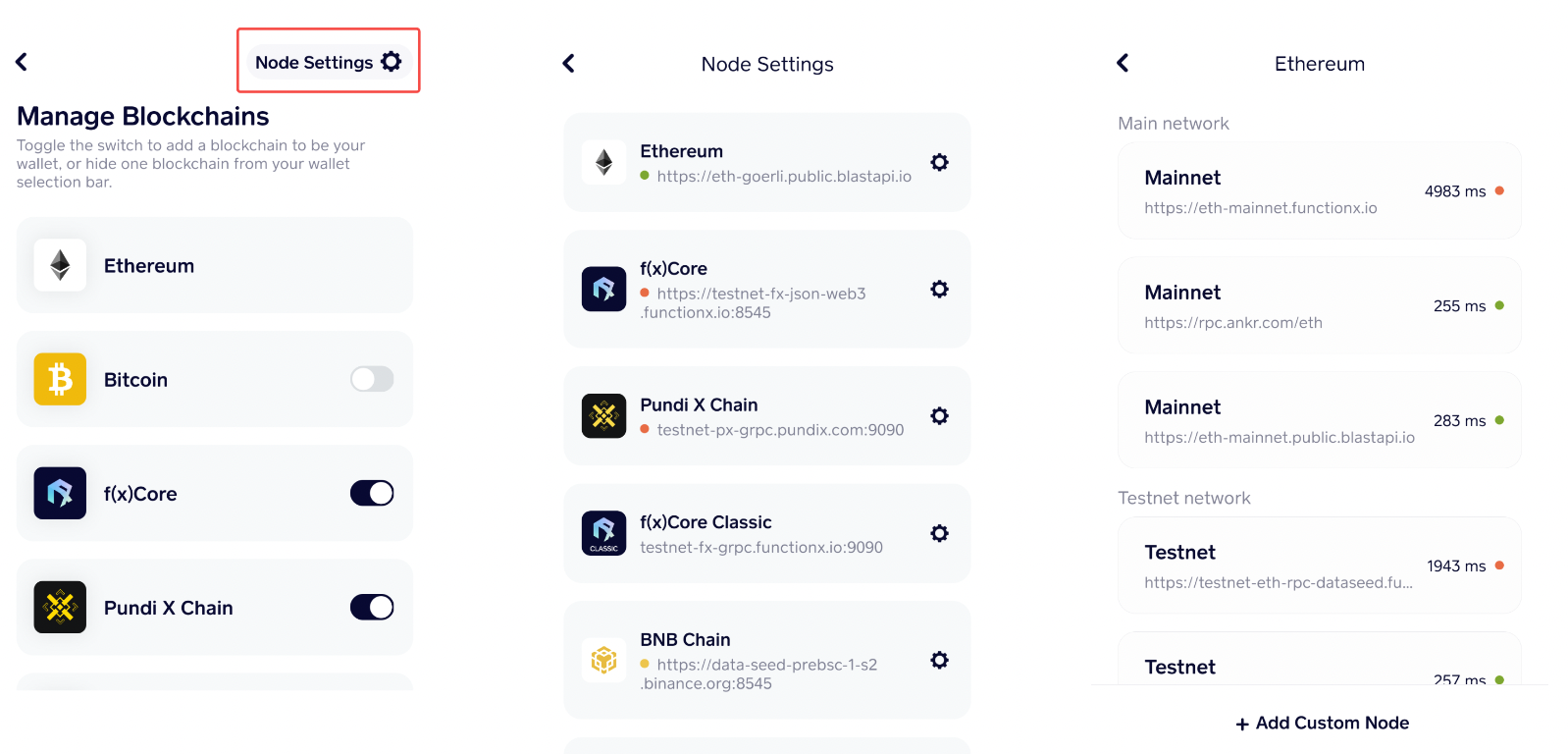 How to add a custom node to a blockchain?
Under Node Settings, tap on the blockchain to which you'd like to add your custom node

Tap +Add Custom Node

Enter the name and URL of your custom RPC node. Wait for the URL to load and tap Confirm